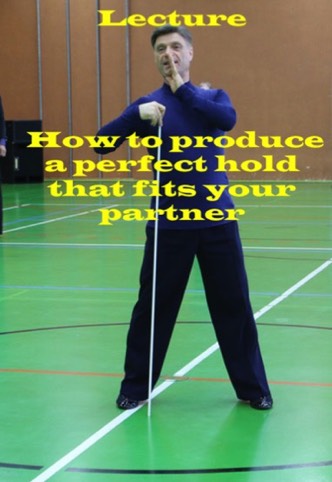 I am happy to offer my new lecture/Lerhgang modules to the dance schools, clubs, Swissdance members.
Each module lasts 1.20 minutes.
The information within the module will be useful to all levels of dancers that wish to have a deeper understanding of how dancing really works.
The hold that fits the partner.

In today's dancing I see 2 different ways the wrong and the right way.
We can make a hold with balanced elbows looking from the back view of the couple ok.
We could say it is correct as the hold looks balanced and level. We can then walk around to the side of the couple and have two possibilities.
The 2 dimensional look or the 3D look. If your body weights are to far backwards in relation to the foot that you stand on it will have the 2D look and you will be pulling your partner off their feet man or lady. 80% of dance World do this version and this is why the will stop to improve.
3D look body weights are forward it's possible to have a large top line but still move wonderfuly from this position


What is the height ratio of your partnership as this makes a difference to how you would fit together.


Your notes:
Do you think of my hold for just for yourself or do I fit the hold to assist the other persons standing and moving balance.
What about torsion in the bodies.
Do you produce the 3D look within your body.
How far back is your body weight do you stand straight but weight is in the wrong place of the feet.
How far forwards could you project your body weight in slight flexed knee.
Is your partner parallel to you. Do you even want this? This will cause the dreaded squareness.
Is the man and lady offset to each other. With the right amount you will find turning figures much better.
How light is the hold. If not someone or both are off balance.

Super light is super dance