Philip holds a diploma as dance instructor and teachs in the renowned Dancers danceschool in Wallisellen near Zurich. Also teaching at ETH. An experience in World Class dance competitions, now working as a top dance trainer and coach. His work is with couples of all grades and ages from various countries, mainly Switzerland, Germany and Austria.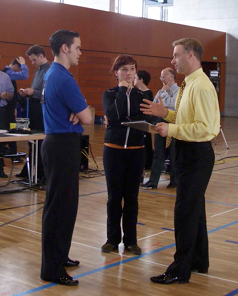 Philip ist diplomierter Tanzlehrer (SwissDance) und British Dance Council und arbeitet in der renommierten Tanzschule Dancers in Wallisellen bei Zürich.
Nach langjähriger Turniererfahrung auf Weltklasseniveau arbeitet Philip heute als engagierter Tanzsporttrainer, Coach für Turnierpaare. Philip ist ebenfalls internationaler Wertungsrichter.
Philip trainiert Turnierpaare aller Klassen und Alterskategorien in der Schweiz, Deutschland und Österreich.